Shetland's 'mega' status in autumn has developed over the years due it to producing unparalleled extreme vagrants, from both Siberia and North America. Being a string of more than 100 small islands isolated in the North Sea, it is the perfect location to host off-course, lost vagrants and create a hotbed of excitement for anyone out looking for them. Of course, the islands are also landfall for more expected common and scarce autumn migrants, often in large numbers, moving to warmer climes and more accessible food sources further south, away from the harsh northern winters.
The number of birders visiting Shetland in autumn has never been higher – partly because of its illustrious recent birding history, which serves as a magnet for teams to undertake annual pilgrimages north, but also as a welcome movement for more 'local' travel over long-haul destinations with the climate crisis firmly on our minds. There was also the knock-on effect of more enforced localised travel due to the COVID-19 pandemic, whether through restrictions in travel, logistical difficulties or a new-found sense of enjoyment, with what's on our doorsteps with 'staycations' favoured over foreign birding. Shetland has never seemed more appealing as a get-away destination for those wanting to enjoy some quality autumn birding. But it shouldn't only be synonymous with autumn. Perhaps not as widely known about is that we do spring here, too – and it can be rather more spectacular than you might imagine!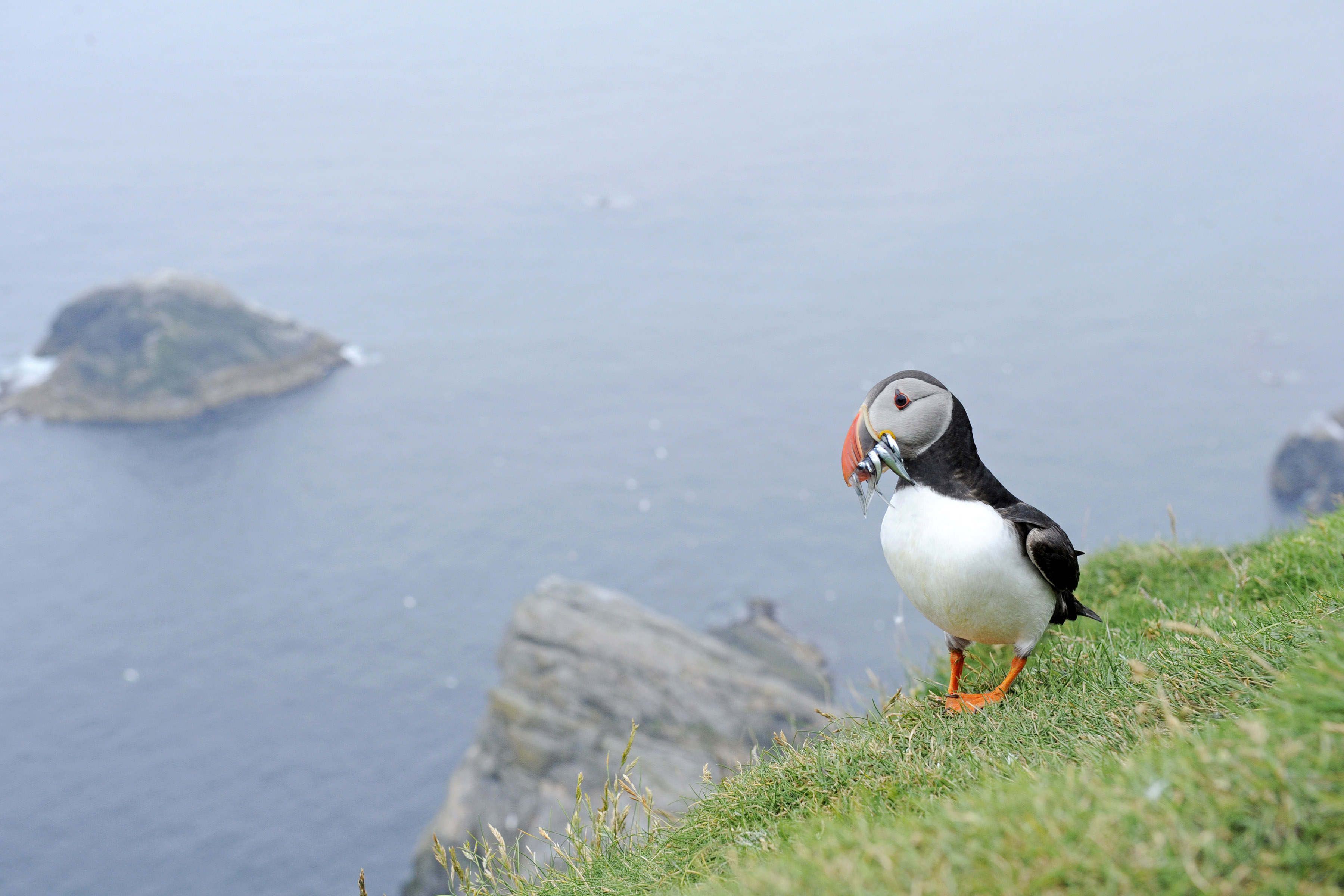 A classic Shetland scene: a Puffin, with sandeel snack, sits pretty against the looming backdrop of the cliffs of Hermaness. Late spring and early summer can be brilliant for producing rare migrants across the isles, with the added bonus of thousands of breeding seabirds to marvel at (Rebecca Nason).
If you think you know Shetland from your previous autumn visits, think again – experiencing the islands in spring is a world away from the 'fifty shades of brown' you might be used to. The whole 'feel', as well as climate, are different, making it seem like a totally separate destination and experience. From May onwards, the islands are an explosion of colour, of seabirds, of waders and – of course – exciting migrants to keep all who visit on their toes and with hands firmly on the binoculars.
Seabird Central
More than a million seabirds call Shetland home in the relatively short summer season. The islands become a raucous hive of activity with 22 breeding seabird species, 18 of which are found in internationally important numbers. Shetland's vast coastline and rich, highly productive waters create the perfect breeding grounds and a wildlife spectacle hard to beat in Europe, if not the world.
May is the month that seabirds return in big numbers and when breeding activity starts in earnest, reaching fever pitch into June. The cliffs burst into colour, with pink Thrift and blue hues of Spring Squill lightly swaying on the warm sea air. There are few stretches of coastline without Northern Fulmars cackling as they enjoy the air currents, and several hot-spots will see you eye-to-eye with Puffin, Razorbill, Guillemot, Kittiwake, Arctic Tern, Great and Arctic Skuas, plus the resident Black Guillemot.
The majority of seabirds have, as elsewhere in the UK, suffered declines in recent years, in part at least due to the lack of sandeels, on which many depend. Conversely, Northern Gannet and Great Skua numbers have increased across the isles, due to a less restrictive diet and ability to adapt in the face of increasingly fast environmental changes. Shetland still remains a stronghold for many seabirds and these form at the very least a background highlight for any birder's spring trip.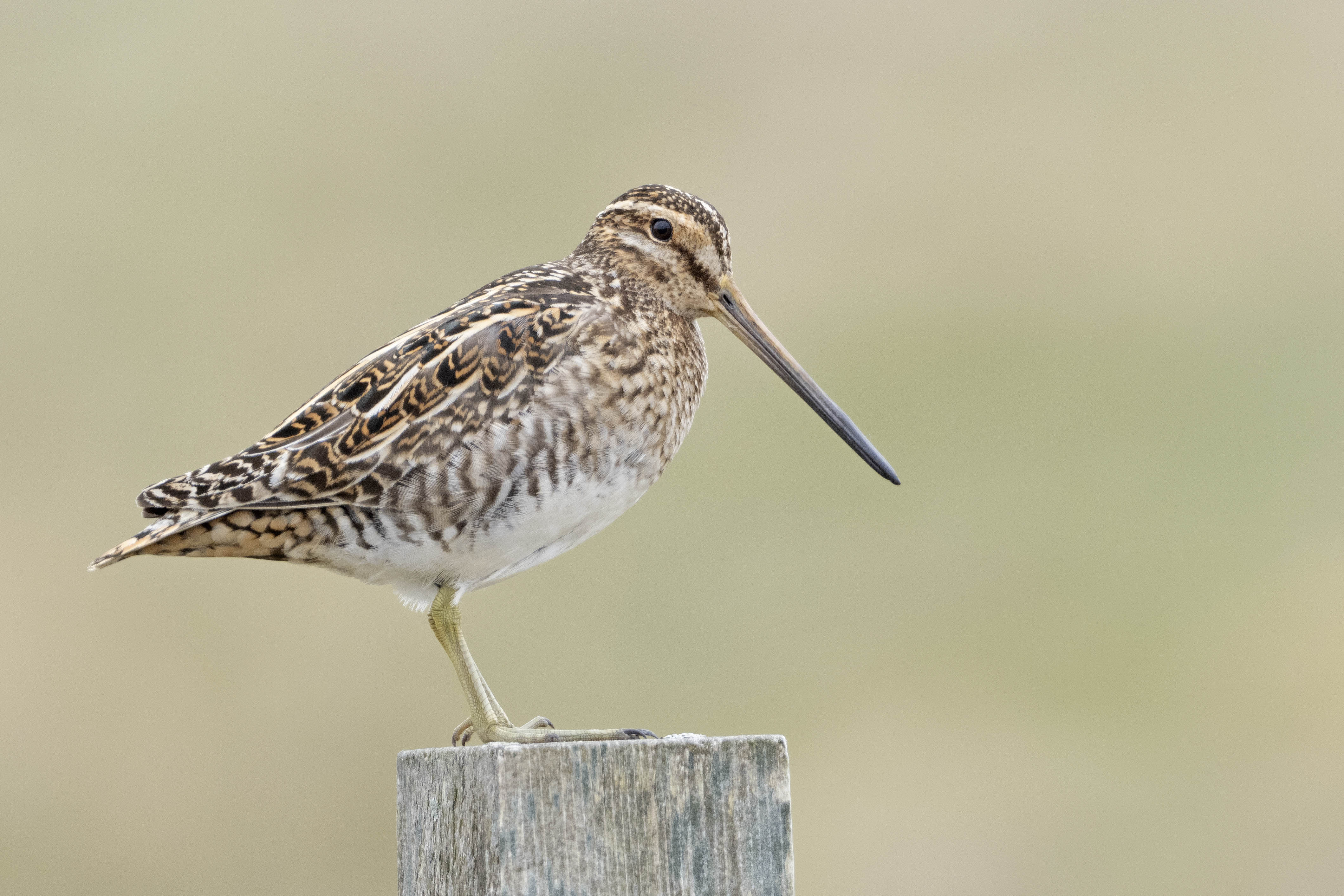 Common Snipe is a common and familiar breeder across Shetland, with noisy birds displaying from fence posts (Rebecca Nason).
The biggest seabird colonies are found on Fair Isle, Foula, Hermaness on Unst, and Noss, which is off Bressay; the last two are home to huge and increasing Northern Gannet colonies set in breathtaking scenery. There are ample opportunities to enjoy seabirds at close quarters both as a birder and photographer in Shetland, not least by taking a walk up to the heady cliffs at Hermaness, where you will be greeted en route by Great Skuas and arrive to an amphitheatre of gannets and Puffins in spectacular surroundings.
As an alternative, taking the Noss Boat tours from Lerwick to experience more than 25,000 gannets from sea level, nesting on towering weathered sandstone cliffs and rocket-diving for fish around the boat, is hard to beat. The 2,000-year-old Mousa Broch monument is alive with European Storm Petrels at night during the summer months, most arriving back in May, and an evening Mousa Island boat trip is a special experience not to be missed.
For those seeking the most photographed seabird in the world, Puffin, then Sumburgh Head is the best location, being a firm favourite site with locals and visitors alike thanks to the added bonus of a lighthouse, marine exhibition centre and café – and it can be a great place to find rarities!
Abundant waders
Away from the coast in spring, the moorlands and globally important blanket peat bogs take on attractive mauve tones, broken by swathes of Cottongrass and damp flushes. These wonderful northern habitats, and the historically less-intensively managed croft lands, are home to a wealth of breeding shorebirds.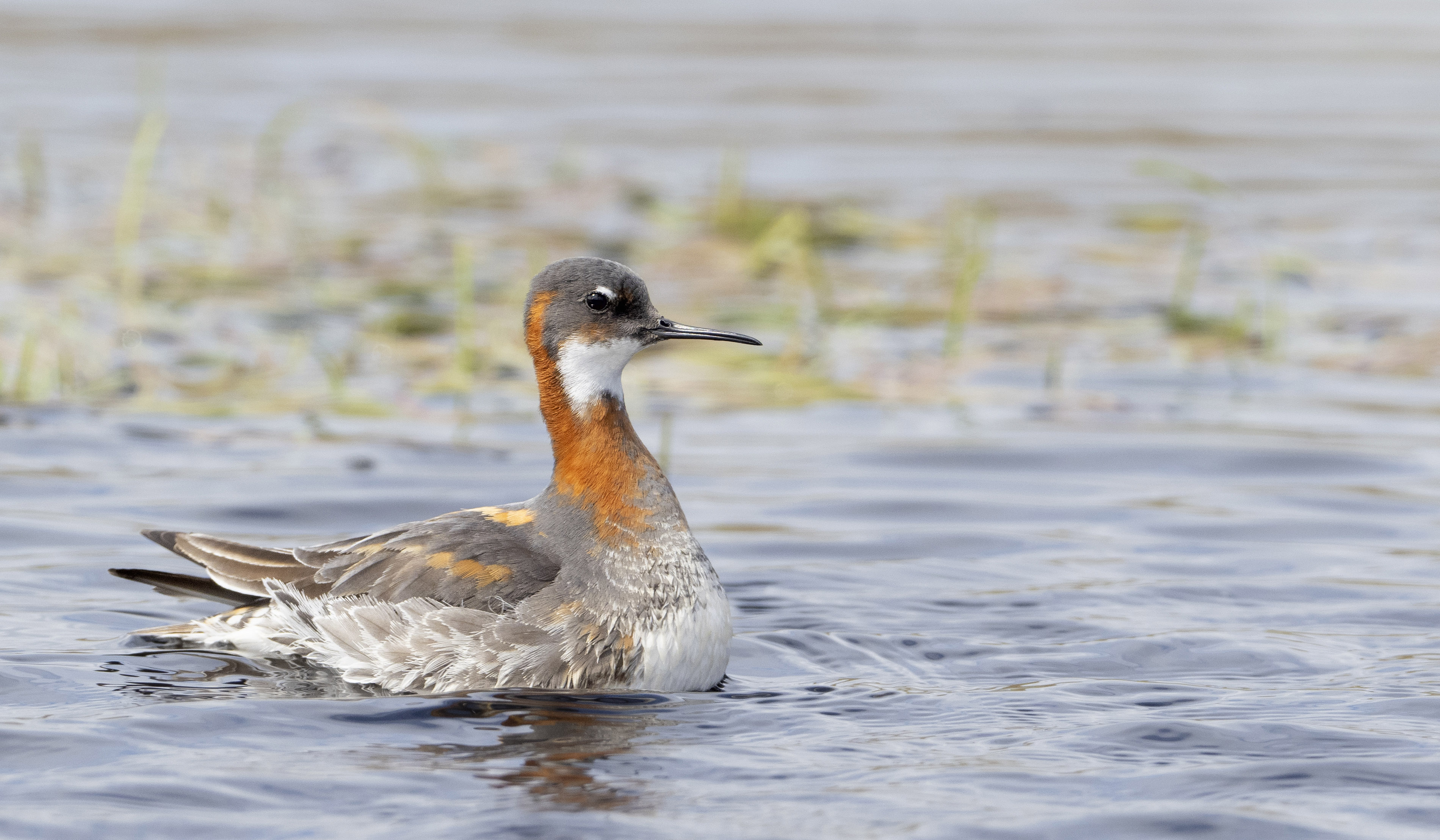 A trip to Shetland in late spring and early summer should produce the delightful Red-necked Phalarope, which breeds in small numbers across the archipelago (Rebecca Nason).
You cannot fail to notice the sheer number of waders between May and the end of July. The densities are a reminder of what other parts of Britain were once like before widespread post-war agricultural intensification. Thirteen species nest in total, often in an abundance hard to match in other parts of Britain – 11 are found in internationally important numbers.
Common Snipe is a regular sight and evocative sound of a Shetland spring, from bold strategical fence-post podiums to the drumming vibrations filling the wide skies alongside displaying Northern Lapwing, Common Redshank, Eurasian Oystercatcher and Eurasian Curlew. Other moorland and peat bog sites, particularly in the outer islands, provide favourable habitats for breeding Dunlin and European Golden Plover, as well as forming the nesting grounds for more than 95% of the British population of Whimbrel. Ringed Plovers enjoy a plethora of undisturbed beaches and Common Sandpipers bob along stream fringes. Greenshank and Black-tailed Godwit are rarer breeders, with neither confirmed annually.
Red-necked Phalarope is an iconic feature of the isles that returns from wintering grounds along the west coast of South America in May, with the highest densities on Fetlar. A visit to Shetland in spring is surely not complete without a visit to see these stunning waders. If you are lucky, you may come across phalaropes at other sites in the isles, particularly on 'feeding lochs' as they make their journey back to Fetlar and other isolated breeding localities. The RSPB has been highly successful recently in improving targeted habitat management for these birds at key sites, particularly at its flagship Fetlar reserve.
On the multitude of lochs across the isles, two other rare breeders are quite easily encountered. Red-throated Diver is perhaps the most enigmatic Shetland breeding species in summer, with many paired up on lochs by late May or commonly seen fishing offshore. Whooper Swans also nest in small numbers.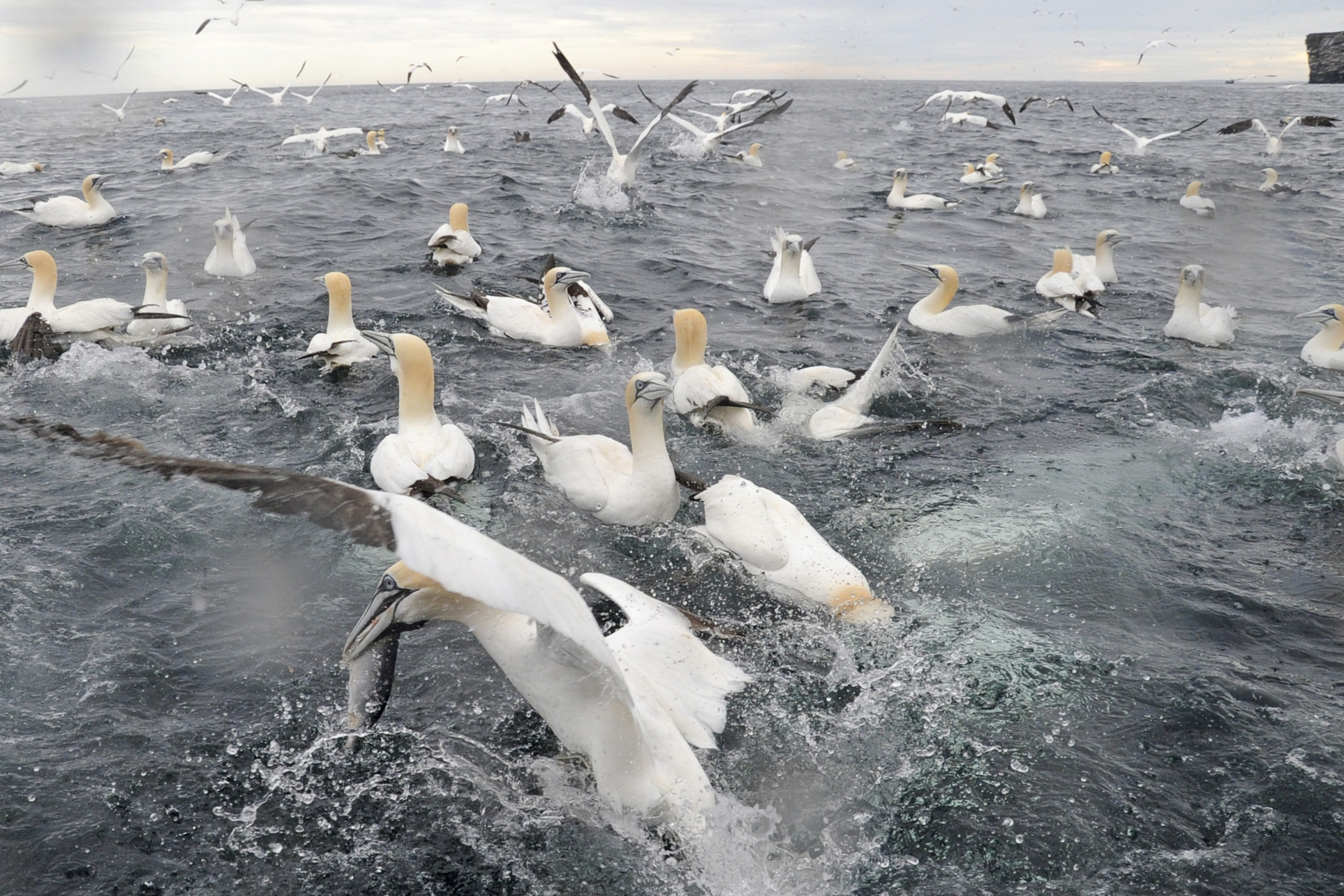 Northern Gannet is one seabird species that is thriving in Shetland, with particularly impressive colonies on Unst and Noss. Boat trips give brilliant opportunities to see them up close (Rebecca Nason).
So, with a backdrop of frenetic breeding-bird activity across the isles, visiting birders in spring and early summer will have plenty to occupy themselves when migration is slow or winds are unfavourable. With so many birders taking to photography these days, there is a bounty of opportunity at every turn. Another big plus in spring is the light, with very long daylight hours when compared to the frustratingly short days of autumn. Light combines with more settled weather to provide a real advantage – even doubling field birding hours compared to the autumn. You can bird until teatime and well beyond!
Migration Season
What can you expect with spring migration across the isles? Movement starts in March, though only really picks up from the beginning of May onwards – spring is much later here in the far north of Britain. It's also worth noting that there are smaller numbers of birds than in autumn, when many youngsters will be making their way south for the first time. However, the birds you do see have the added glamour of being in fine breeding plumage. Many will also show incredibly well, with limited vegetation cover and disturbance, meaning plenty of spring highlights can be enjoyed at close range and without the crowds.
On top of a host of common migrants, classic scarce overshoots by mid-May (given suitable weather conditions) could include Red-backed Shrike Bluethroat, Wryneck and Common Rosefinch, with regular visitors such as Rustic Bunting, Thrush Nightingale, subalpine warblers and Marsh and Icterine Warblers all tending to be much more regular here than anywhere else in Britain.
Spring Blyth's Reed Warbler records have notably increased in recent years, too. Other scarce or rare migrants typical of this time may include Red-rumped Swallow, Hoopoe, Golden Oriole, European Nightjar, European Bee-eater, Woodchat Shrike, Citrine Wagtail and Paddyfield Warbler. Interestingly, the mega-rare Green Warbler has now been recorded five times in Shetland in spring or early summer out of a total of just eight national records.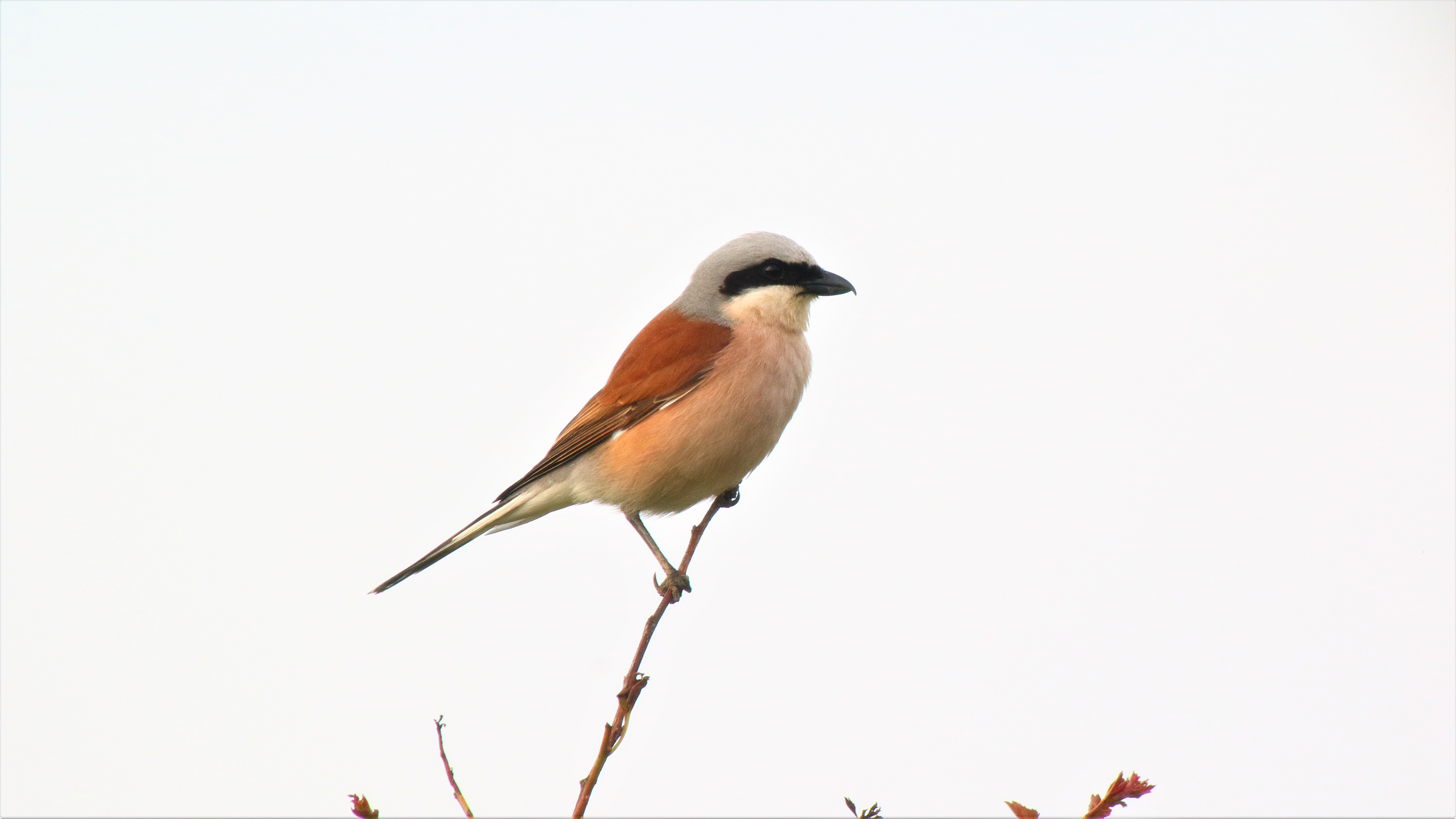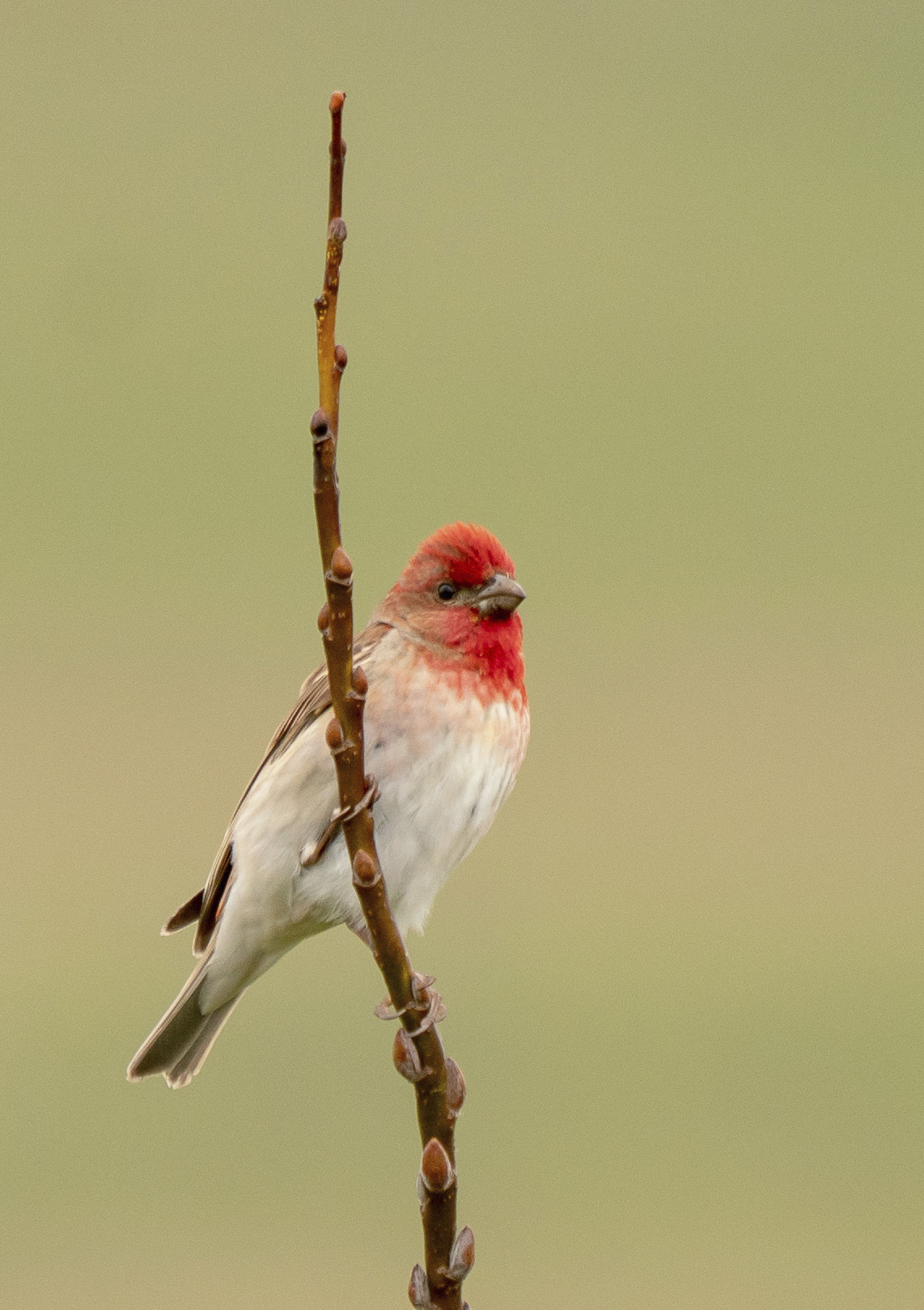 A colourful array of typical late spring and early summer scarcities that may be found in Shetland include Red-backed Shrike (top) and Common Rosefinch (James Hanlon / Helen Perry).
The majority of Shetland's scarce and rare spring birds are found after periods of south-easterly winds. Even light winds will bring in migrants, either propelled north from southern Europe or pushed west as they head for Scandinavia. But there are also increasingly regular records of American vagrants making landfall in Shetland in spring, just to add to the honeypot of possibilities!
Then there are the 'big' birds – the extreme vagrants that visitors may dream of. History tells us that they happen here with regularity. Who can forget the Pallas's Sandgrouse at Quendale in May 1990 – a bird that was widely twitched from the mainland. Another very popular bird was the Blue-cheeked Bee-eater in June 1997, with other standout finds from various points of the compass including Caspian Plover at Skelberry on 3-4 June 1996, Rose-breasted Grosbeak at West Burra on 3-4 May 2016 and Black-and-white Warbler at Aithsetter in late May 2020.
Of course, Fair Isle and its constant coverage stands head and shoulders above the rest, boasting an unforgettable list of extreme vagrants in May that includes Brown-headed Cowbird, Thick-billed Warbler, Song Sparrow and White-throated Sparrows, multiple Calandra Larks and Collared Flycatchers, and Steller's Eider. Migrants keep appearing well into June, with later highlights having included Cretzschmar's Bunting, Hermit Thrush, Myrtle Warbler, Eastern Olivaceous Warbler and the famous Citril Finch of June 2008.
Spring birding days can be fabulously varied and frequently brilliant across the isles. The quotes below are surely enough reason to get the pulses racing and a spring trip to Shetland firmly on the staycation radar.
Rob Fray wrote in the Shetland Bird Report 2018: "All of this was a prelude to possibly the most remarkable 24-hour period in the long history of Shetland birding: late afternoon on 14 May produced Shetland's first Marmora's Warbler at Baliasta, Unst, a Black-faced Bunting nearby at Norwick, and Shetland's first Eurasian Crag Martin on Fair Isle. By mid-afternoon on 15th a Song Sparrow on Fair Isle, a Terek Sandpiper at Virkie and European Bee-eater at Sandwick had been added to the roll-call (along with 'also-rans' such as a Garganey at Melby and the first of spring's six Red-breasted Flycatchers at Sumburgh Head)."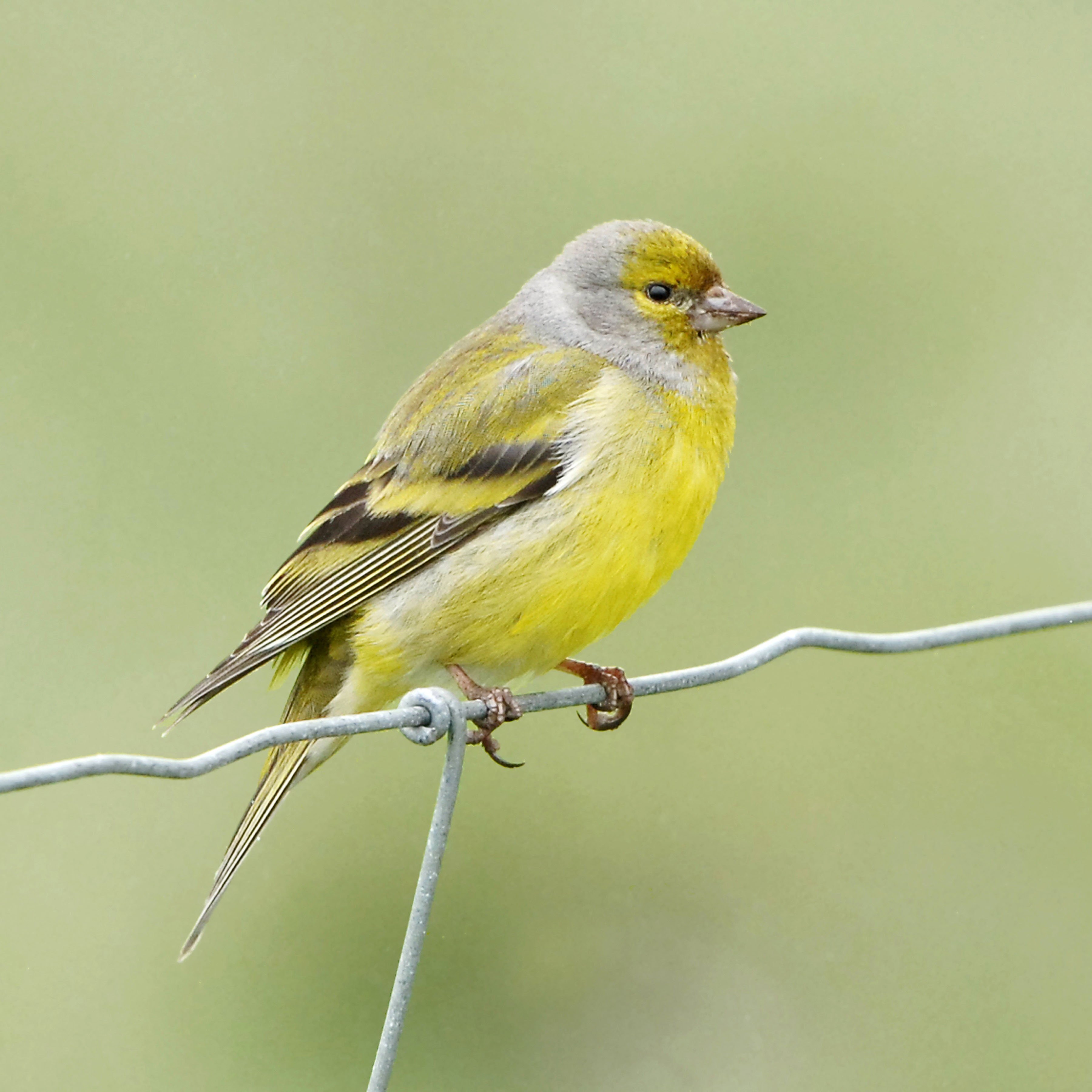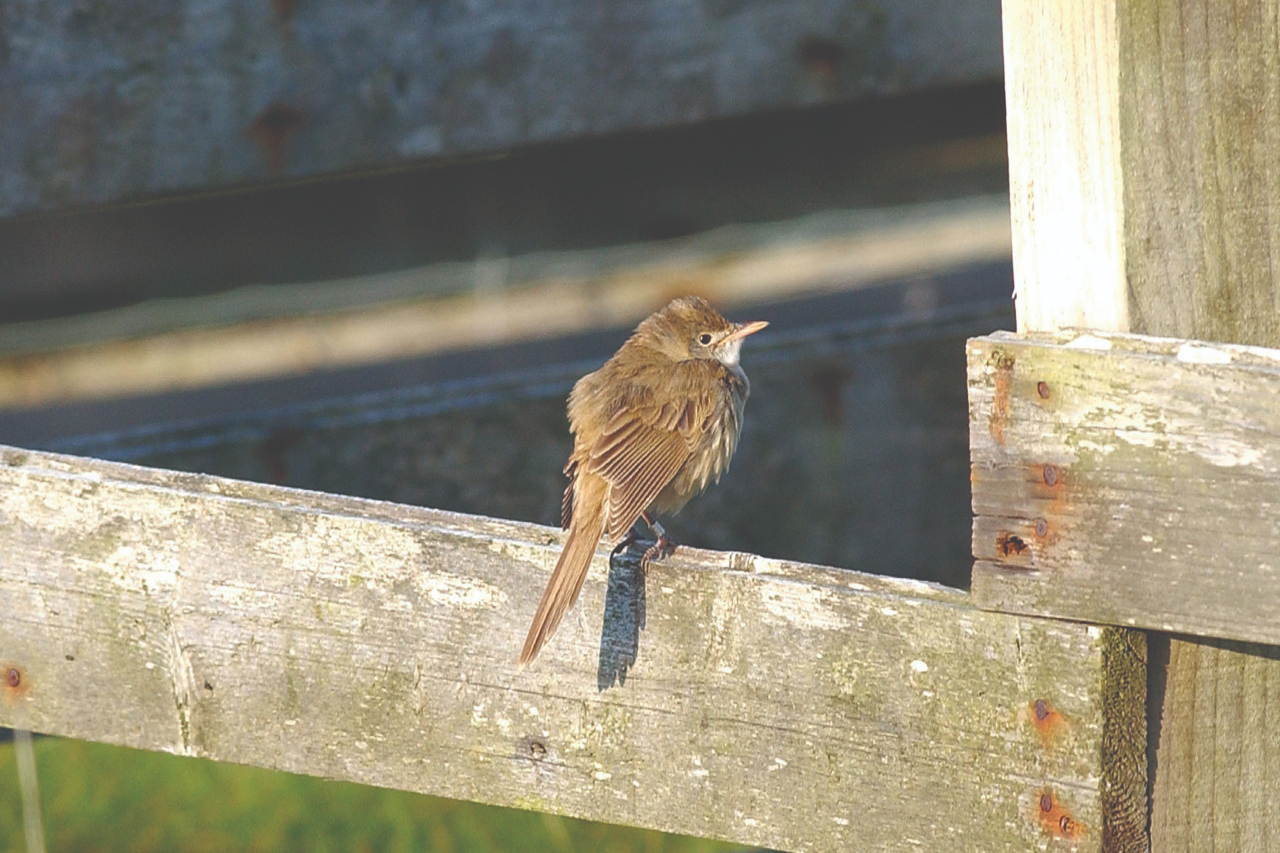 Shetland has a long and enviable list of mega rarities that have appeared in late spring. Among them are these two gems from Fair Isle: June 2008's Citril Finch (top), which was a first for Britain, and a Thick-billed Warbler in mid-May 2003, which the long daylight hours allowed for a twitch from the mainland on its first day (Rebecca Nason).
An extract from The Birds of Shetland: "Potentially one of the most exciting months of the year is May. A fall in May can be a colourful event, and it is all the more enjoyable as it is likely to occur in bright sunshine. Alongside the duller Tree Pipits, Garden Warblers, Willow Warblers and Spotted Flycatchers may be resplendent male Common Redstarts, Whinchats and Pied Flycatchers, or classic Shetland migrants such as subtly plumaged Wrynecks, bandit-masked Red-backed Shrikes and stunning male Bluethroats of the red-spotted form.
"Some extremely unusual birds have been found in early May, including three Dark-eyed Juncos, and Shetland's only Black Stork and Marsh Sandpiper. But in the second half of the month, almost anything can turn up – American Kestrel, Common Yellowthroat, Myrtle Warbler or White-crowned Sparrow from North America, Black-winged Pratincole, Calandra Lark or Little Swift from southern Europe or south-west Asia, or even White-throated Needletail from Asia."
It goes on to cite June as "an excellent month for extremely rare vagrants", before naming Lesser Kestrel, Bimaculated Lark and Cedar Waxwing on an enviable and mouth-watering list of possibilities.
So, why not give Shetland a go in spring? There's plenty of breeding birds to see at this vibrant time of year. Plus, if you're in the right place at the right time, and with the right weather, who knows what you might find!
This article was published in the June 2022 issue of Birdwatch.